It's that time of the year again. I am reviewing things that have gone well over the last year, and my goals for next year. I was able to meet some of the goals I had set for myself at the beginning of the year:
I started meditating regularly. I didn't do it for all 365 days, but got pretty close to doing it 5/7 days every week. I do feel more aware, and in control, when I meditate regularly, and would like to keep on doing it.
I was more proactive about where I spent my time this year. On the personal front, my parents visited us for 4 months, and I tried my best to make sure they had a good trip by being present. We also got our first dog this year, and he's been a blessing to me and my wife. We love having him around.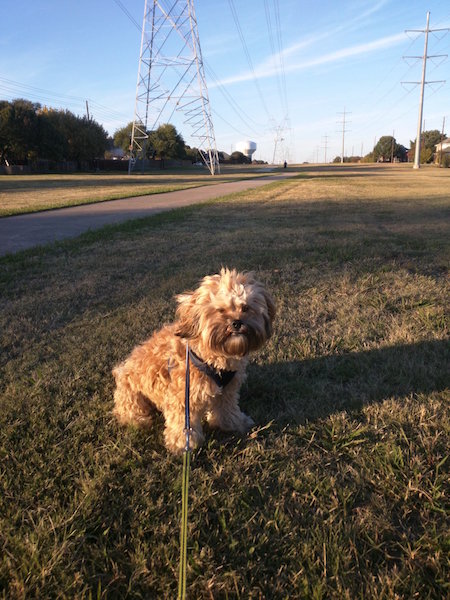 Dexter enjoying the weather
I improved my Javascript chops a lot, and have been learning about writing functional Javascript lately. I also learned about the ReactJS ecosystem, and wrote my first React Native app for work.
I exercised pretty regularly through the year, and lost about 10 lbs thanks to the ketogenic diet.
I read around 15 non-fiction books, and a lot of fiction as well.
I started dabbling with learning to play a ukulele, and also speaking Mandarin. Unfortunately, these were the first thing to suffer when things got hectic.
I have really enjoyed my day job working for a startup, and am very grateful for the opportunity to work from home. This gives me a lot of flexibility over my schedule.
I learned about finances, and made better decisions. We have been okay at saving in the past, but not considered all the options available to us to save better, or invest. We have made some changes this year for the better, and hope to improve further over the next few years.
I gave up on authoring a Pluralsight course for now, as I could not find a topic that I have expertise in that would be a good fit for Pluralsight. I also did not create any new side projects this year, though I have started working on a small new one slowly. I also did some work on SqlSmash.
Next year, I would like to:
Read more non-fiction, about 25 books.
Learn the basics of another functional programming language. I am considering looking at Haskell.
Launch at least one more side project, even if it's a small one.
Spend more time learning the ukulele, as well as Mandarin, and see how much progress I can make.